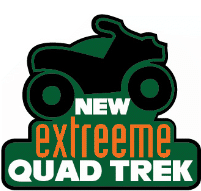 We have a brand new activity, starting from the 2018 season you will be able to go quad biking at ExTREEme Adventure! The Suzuki All Terrain Vehicle (ATV) quad bikes are serviced and sold by Neil Richardson Ltd. Agricultural Machinery, Norfolk.

Being ATVs means they can more or less go on any kind of ground. Here at ExTREEme Adventure these fabulous four-wheeler bikes will be available for trekking through the woods and farmland. The routes will be dependent on experience and ability. Our aim is to cater for novices, those more experienced as well as the more able and adventurous. Our quad biking safaris will last a whole hour, following on from half an hour's training. So the whole quad bike experience will take approximately 1 ½ hours (30mins Training + 60mins Trekking).

Quad biking can be undertaken as individuals or as a group outing, for example stag/hen groups or corporate groups. The minimum age is 16 years and the cost is £55.00 per person. Pre-booking is essential! If you combine activities at ExTREEme, you may qualify for a discount. Visit our Quad Bike page for further information.

please telephone 07775 593477 or 01328 838720 to make your booking.