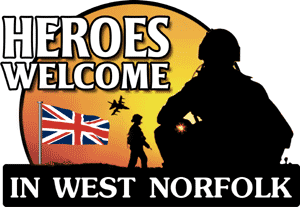 US and British Armed Forces and their families get 10% discount!
We like to show our support for British Armed Forces Personnel which is why we are among the West Norfolk Supporters of the Heroes Welcome scheme. We know these brave men and women are doing a difficult job in dangerous circumstances.
(The scheme)… shows support for British Armed Forces Personnel and indicates a warm welcome, service up grade, special acknowledgement or even a little discount as appropriate.

―www.heroeswelcome.co.uk
Here at ExTREEme Adventure we like to extend this support to include United States Armed Forces personnel and their families.
To claim the 10% discount, please telephone 07775 593477 to make your booking.